5 STEPS TO A CLEAN POOL WITH AN IN-FLOOR CLEANING SYSTEM
Build your new pool with a pool cleaning system that is guaranteed to keep your pool clean and swim ready with minimal maintenance. Paramount's automatic in-floor pool cleaning systems are efficient and eco friendly by reducing the use of chemicals dramatically and circulates warmer water from the surface to the bottom for a more comfortable swimming experience and reducing heating costs. See how it works.
How in-floor systems work
Save Up To 30% on Chemicals & Energy with an infloor swimming pool/spa cleaning systems
In-floor systems are more than highly effective automatic pool cleaners. They also function as high efficiency circulation systems. They are so effective that they have been independently certified to save up to 30% on chemicals and energy for the life of your pool.
BETTER CIRCULATION OF CHEMICALS & WARM WATER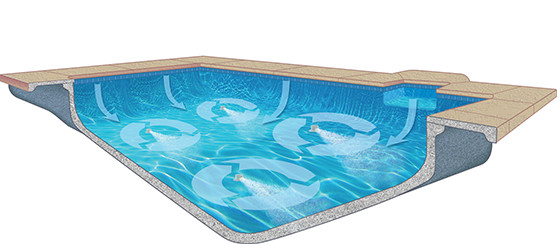 Pool with in-floor system.
Learn more
POOR CIRCULATION RESULTING IN CHEMICAL & HEAT LOSS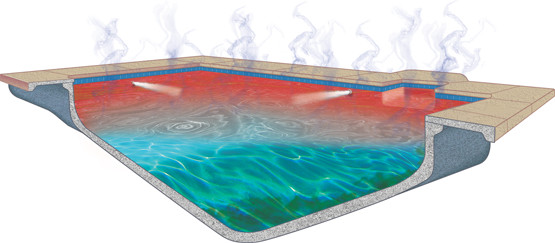 Pool without in-floor system.
Learn more
Enhanced circulation that saves money on heating and chemical costs.
custom engineered
for improved cleaning
Built right into the pool shell, Paramount's automatic in-floor swimming pool/spa cleaning systems are engineered to clean your entire pool, including floors, steps, benches, even spas. Nozzles pop up sequentially to direct a power jet of water to direct debris towards the MDX-R3 drain. When not operating, the nozzles disappears back into the pool floor, making it virtually invisible. There are no vacuum hoses left floating in the pool. All that's left is a sparkling clean pool that's ready to enjoy. Our in-floor systems are so effective that it will clean 99% of your entire pool, guaranteed, as well as significantly reduce heating and chemical costs for the life of your pool.
Explore our Industry-Leading Products