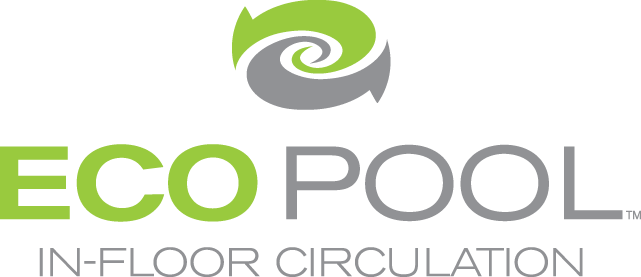 Designed to circulate water and chemicals throughout your pool to save on heating and chemical costs.
Healthy swimming pool water. It's what every pool owner expects, but not what every pool owner gets.  That's because not every pool is custom-designed for optimum circulation.  ECO POOL is an advanced In-Floor pool circulation system custom designed for each pool to maximize circulation and improve your overall swimming environment. Using the latest state-of-the-art In-Floor technology, ECO POOL will help you maintain a healthier pool while helping reduce your chemical and energy costs. Simply put, ECO POOL is a smarter way to build a swimming pool.
ECO POOL'S powerful
cleaning nozzles
Hydraulically-engineered circulation nozzles are placed into the pool floor.  Whenever the pump is activated, the nozzles pop up to deliver a jet stream of freshly filtered water across the pool floor.
When not operating, the circulation nozzles retract flush with the pool floor, becoming virtually invisible.  All that's left to see is a better circulated pool.
The circulation nozzles will sequentially rotate 360 degrees so that freshly filtered water is evenly dispersed throughout the entire pool.
Save Up To 30% on
Chemicals & Energy
In-floor systems are more than highly effective automatic pool cleaners. They also function as high efficiency circulation systems. They are so effective that they have been independently certified to save up to 30% on chemicals and energy for the life of your pool.
BETTER CIRCULATION OF CHEMICALS & WARM WATER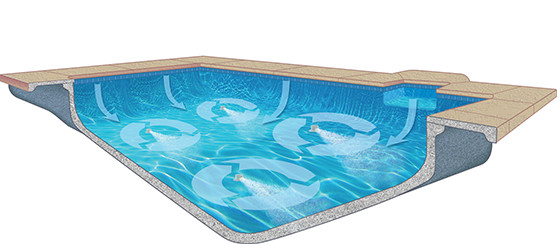 Pool with in-floor system.
Learn more
POOR CIRCULATION RESULTING IN CHEMICAL & HEAT LOSS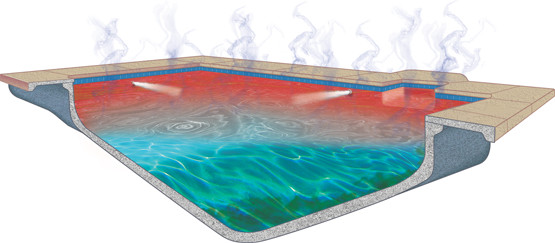 Pool without in-floor system.
Learn more
Enhanced circulation that saves money on heating and chemical costs.
Available in 6 designer colors
Explore our Industry-Leading Products