The
NEW

Eco System is optimized to
keep your pool and the environment clean
Modern multi-speed pumps are great for lowering your electric costs. ECO System is engineered to work specifically with multi-speed pumps –  and at those lower, money-saving pump speeds. Utilizing that sweet spot of efficiency, while effectively cleaning and circulating the entire pool, including walls, floors, steps, benches, and even spas.
ECO System's nozzles pop up systematically to clean, then retract flush with the pool floor, becoming virtually invisible. No vacuum hoses left floating in the pool, no mechanical devices to be removed.
All that's left is a sparkling clean pool that's ready to enjoy.
Disclaimers
How ECO System Works
WATER VALVE AUTOMATICALLY DIRECTS FLOW TO NOZZLES
The brain of the system. 100% pressure safe, hydraulically driven, and requires no maintenance.
ROTATING POP-UP NOZZLES SWEEP POOL DEBRIS
Rotating cleaning nozzles sweep debris off pool floors, steps and benches towards and into the debris removing MDX-R3 debris drain and skimmer.
MDX-R3 DRAIN REMOVES DEBRIS
The MDX-R3* debris drain effectively removes large debris from the pool and into the containment canister. The SDX2* offers an additional layer of anti-entrapment protection and handles additional suction requirements.
VENTURI SKIMMER COLLECTS SURFACE DEBRIS
The eco-friendly ParaskimV Venturi Skimmer features enhanced surface skimming even at low pump speeds, a large capacity basket and increases debris removal at the MDX-R3 floor drain.
ECO System's Powerful Cleaning Cycles
Weighted, ratcheting cleaning nozzles are designed specifically for the ECO system and high efficiency performance. Placed strategically in your pool floor, steps and benches to work together to systematically sweep debris out of your pool through the main drain and skimmer. After about an hour, nearly every square inch of your pool will have been swept one time. All while utilizing modern multi-speed pumps at their best efficiency settings.
Save Up To 30% on Chemicals & Energy
In-floor systems are more than a highly effective automatic pool cleaning system. They also function as high efficiency circulation systems. They are so effective that they have been independently certified to save up to 30% on chemicals and energy for the life of your pool.
BETTER CIRCULATION OF CHEMICALS & WARM WATER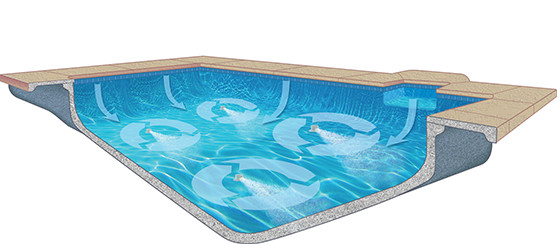 Pool with in-floor system.
Learn more
POOR CIRCULATION RESULTING IN CHEMICAL & HEAT LOSS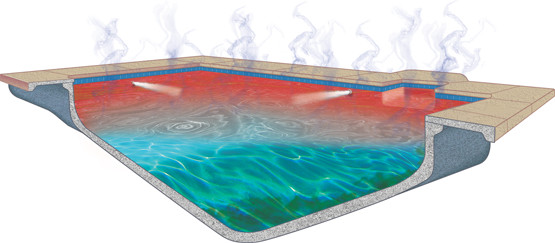 Pool without in-floor system.
Learn more
Enhanced circulation that saves money on heating and chemical costs.
Available in 6 designer colors
Options to Make Your In-Floor System Even Better
Deck side canister
LEARN MORE
Options to Make Your In-Floor System Even Better
Equipment side canister
LEARN MORE
WHO IS ON THE LIST
Top 50 Builders list was released in June 2020 issue of Pool & Spa News
66% Are Paramount Dealers