Powerful In-Floor Pool Cleaning System
One of the first steps to consider when building a pool is to build one with very low maintenance. Paramount's PCC2000 in-floor pool cleaning system automatically cleans your pool while you relax. It aesthetically complements  your pool's design, virtually invisible, and eliminates the unsightly look of robotic pool cleaners. It's patented nozzles pop up and directs a power stream of water to sweep debris to the collection zone and into the MDX-R3 drain for easy removal.
There are other benefits of installing a PCC2000 in-floor pool cleaning system, it's circulation of water and chemicals from the bottom up means a healthier, cleaner pool that is always swim ready and extends the swim season. It also helps reduce chemical evaporation so you use less and save more. A pool built with a PCC2000 in floor pool cleaning system is virtually maintenance free, reliable, and makes owning a pool simple.
How PCC2000 Cleans
WATER VALVE AUTOMATICALLY DIRECTS FLOW TO NOZZLES
The automatic Water Valve functions as the hydraulic brain of the system, directing a powerful flow of water to each set of cleaning nozzles and is 100% pressure safe.
ROTATING POP-UP NOZZLES SWEEP POOL DEBRIS
Rotating cleaning nozzles sweep debris off pool floors, steps and benches towards and into the optional debris removing MDX-R3 debris drain and skimmer.
PATENTED DEBRIS COLLECTION ZONE
The collection zone stretches across the deepest part of your pool to trap debris for removal by the MDX-R3 debris drain.
MDX-R3 DRAIN REMOVES DEBRIS
The optional MDX-R3* debris drain effectively removes large debris from the pool and into the containment canister. The SDX2* offers an additional layer of anti-entrapment protection and handles additional suction requirements.
LARGE CAPACITY DEBRIS CANISTERS
Build your pool with the optional Equipment Side (EDC) or Deck Side (DDC) debris containment canister to collect large debris before it reaches the pump basket, reducing stress and keeping the pump running efficiently.
VENTURI SKIMMER COLLECTS SURFACE DEBRIS
The optional eco-friendly ParaskimV Venturi Skimmer features enhanced surface skimming even at low pump speeds, a large capacity basket and increases debris removal at the MDX-R3 floor drain.
PATENTED DEBRIS COLLECTION ZONE
To make that journey carefree, Paramount Pool & Spa Systems developed the PCC2000 Cleaning & Circulation System. Installed exclusively by authorized factory-trained pool builders, PCC2000 keeps your pool healthy and clean with a patented virtually invisible automatic dirt and debris removal system designed specifically for each unique setting.
Protect your pool investment with Paramount's PCC2000, designed to enhance any backyard oasis and help you enjoy the lifestyle you deserve.
Guaranteed Clean & Carefree
PCC2000 is custom-designed for your unique pool shape. It is so effective that it will clean 99% of your entire pool, guaranteed. Enjoy carefree pool ownership, PCC2000 nozzles have larger nozzle design and come with a Limited Lifetime Warranty. Requires fewer nozzles to move debris in one direction towards the patented debris collection zone.
BETTER CIRCULATION OF CHEMICALS & WARM WATER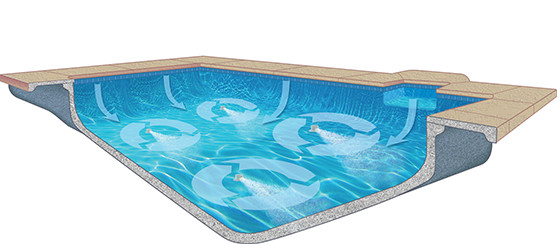 Pool with in-floor system.
Learn more
POOR CIRCULATION RESULTING IN CHEMICAL & HEAT LOSS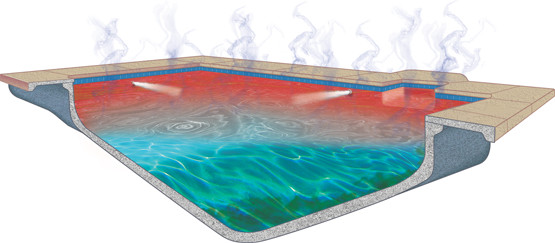 Pool without in-floor system.
Learn more
Enhanced circulation that saves money on heating and chemical costs.
Save Up To 30% on Chemicals & Energy
In-floor systems are more than a highly effective automatic pool cleaning system. They also function as high efficiency circulation systems. They are so effective that they have been independently certified to save up to 30% on chemicals and energy for the life of your pool.
Available in 6 designer colors
Options to Make Your In-Floor System Even Better
MDX-R3 Debris Drain
LEARN MORE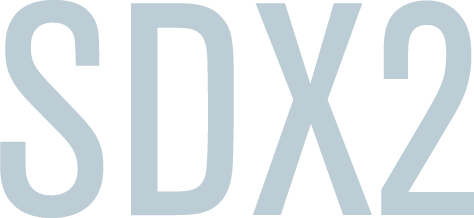 Options to Make Your In-Floor System Even Better
SDX2 safety drain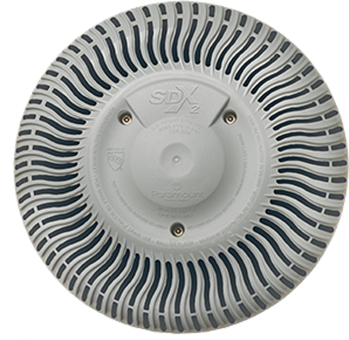 LEARN MORE
Options to Make Your In-Floor System Even Better
Paraskimv venturi skimmer
LEARN MORE
Options to Make Your In-Floor System Even Better
Deck side canister
LEARN MORE
Options to Make Your In-Floor System Even Better
Equipment side canister
LEARN MORE

Options to Make Your In-Floor System Even Better
Swing jet
LEARN MORE
How it works
WHO IS ON THE LIST
Top 50 Builders list was released in June 2020 issue of Pool & Spa News
66% Are Paramount Dealers